Rich and complex, Pinot Noir is widely regarded as one of the world's most hedonistic wines, so much so it has an international day, 18 August, marked in the calendar.
A classic wine, Pinot Noir, has seen unprecedented popularity in the Australian market in recent years, but what does the most recent data tell us about Pinot Noir in the independent retail channel on International Pinot Day?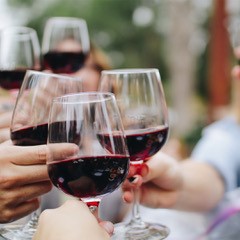 Where it all began
Pinot Noir has been grown for centuries in France's Burgundy region, and there is speculation that a strain of Pinot landed in Australia in 1788 with the First Fleet.
By the 1800s, Pinot Noir was being planted in the Hunter Valley and Coonawarra, before early viticulturists discovered it was better suited to conditions in southern Victoria, only then to be virtually wiped out by phylloxera and other farming practices. It wasn't until the 1960s where the re-emergence of the Yarra Valley as a wine region welcomed the rebirth of Pinot Noir into the Australian wine scene. 
Australian Industry Trends
The increasing popularity and appreciation towards food in Australian culture has coincided with wine industry trends, shining a spotlight on food-friendly and lighter-style red wines. This has led Pinot Noir to boom over the past few years as a top consumer pick, being the third biggest selling red wine in the domestic off-trade market in the last 12 months, holding a 10% share of the total red wine sales. According to Wine Australia, it has become one of the fastest-growing wines in the market, with Pinot Noir sales increasing by 17% in Australia in the twelve months ending 31 March 2019.
Not only has Pinot skyrocketed within the off-premise trade but also in the on-premise. The Annual Beverage Index On-Premise Industry trends published by eBev show that in 2017-18 Pinot Noir was ranked the 2nd most popular red variety with a 22.7% share. It was the most popular wine consumed in restaurants, the 2nd most popular in bars and 3rd in pubs. 
What's Happening in the Independent Channel?
Trends are just that, trends. Not all customer preferences, regions, and businesses are the same, which is reflected in the sales results for different channels. As experts in the independent retail liquor sector, what trends are we seeing for Pinot Noir in 2020? Our data shows growth has cooled a little this year and is currently showing 4.5% value-led growth MAT.
This value growth is being driven by the premiumisation trend, with consumers trading up their purchases in a 'treat yourself' mentality. We've recorded the fastest growth in the super-premium $30+ bracket, at 31% on previous year.
Our data also demonstrates Pinot Noir's highest volume price bracket for independents is the $20-$30 range, accounting for over one-third of the total Pinot Noir sales, growing at 6% MAT on previous year, and higher than the Australian retail average of $17 a bottle.
How are Pinot Noir sales tracking in your business? Does your range support changing consumer demand and the premiumization trend? Could a different SKU mix help you make more from your customers? The best business decisions are made with reliable, accurate, and relevant information, specific for your business, not just the general trends. And that all starts with your data!